Professional Security Systems that Secure More Peace of Mind
Affinitech understands that reducing risk, securing precious items, and protecting people are of the utmost importance. Whether you've got a single building, an entire campus, or several national or international facilities, our state-of-the-art business security systems and other commercial security systems give you the protection you need against both internal and external threats. From indoor and outdoor security system installation, to CCTV security camera systems, to surveillance camera installation, we do it all—creating effective, unobtrusive high-tech solutions designed for your specific needs and goals.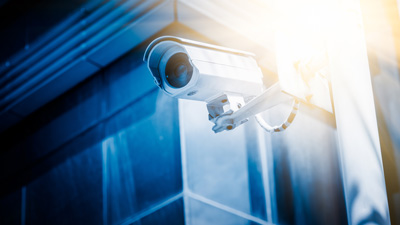 Video Surveillance
Detecting and mitigating risk protects assets and reduces liability. It also allows you to control the narrative, protecting your brand and your company from today's biggest most damaging risks.

The foundation of any commercial security system is video surveillance. Our professional CCTV installation includes cameras that monitor and record your area 24/7—so you can respond to security issues in real time, even from your smart phone. Having immediate access to video is crucial when it comes to increasing response time and producing evidence that supports the facts of what happened.
Affinitech Video Surveillance Solutions:
Our CCTV security camera systems help you manage those countless hours of video footage, so you can more easily call up specific data, view it quickly, and save time and costs.
Our digital-based IP camera systems integrate with your existing IT infrastructure using the latest server and cloud-based storage methods. This provides you with instant access and failover redundancy.
We enable video surveillance integration with other systems including alarms, open registers, shopper presence, and announcing systems. Our designs are made with software and system administration features configured for easy employee use and support.
Our camera technologies provide advanced optic clarity and motion sensing, including 360-degree cameras with dewarping technology to provide you total coverage from one single source. Bottom line? You're protected outside or inside, day or night, in any environment.
Real-time viewing technology allows you to make quick decisions and take immediate action, giving you more protection and peace of mind.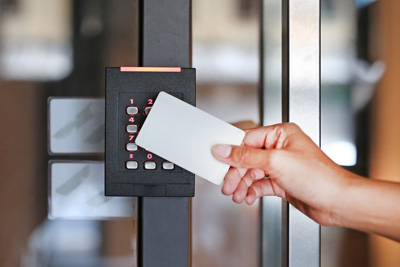 Access Control
Access control installation isn't just about preventing access, it's about providing access—giving you control over who comes and goes, who stays and who stays out. An effective access control system regulates identity management for staff, visitors, contractors, and anyone else with permission to be on your premises. Combining access control data with video surveillance data not only secures your business but improves your operations and increases efficiencies. Video surveillance, along with access control, creates a dynamic, unified system of security that's significantly more effective than either one alone.
Affinitech Access Control Solutions:
Our integrated access control solutions use a single open platform, making it easier to manage and control access for individuals and groups while giving you the ability to reprogram cards, reconfigure access rights, and delete access quickly and easily as needed.
Our access control installation seamlessly integrates with video management software, IT infrastructure, and other technologies, helping you manage and secure your operation with ease. We also integrate with the latest mobile and wireless technologies, building on your existing networks and reducing your deployment costs.
We customize our access control equipment to your specific needs—everything from PINs and passcodes, to cards and badges—giving you real-time solutions for managing and controlling access, including personnel, door status, and event history.
Our reporting packages allow you to detect trends and make operational improvements, searching and filtering by specific events and/or hardware infrastructure.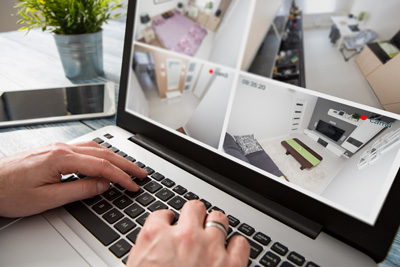 Monitoring
A comprehensive loss prevention strategy protects you from both external and internal threats and monitors your operation 24/7. Bad-actor detection is only one aspect. Customer altercations and employee theft are also unfortunate business realities. That's why safeguarding your operation with visible and non-visible technologies is a necessary way to stay on top of what's happening. At Affinitech, we customize state-of-the-art security monitoring solutions to meet your demands—including notifications, alerts, and alarms.
Affinitech Monitoring Solutions:
Our flexible technologies let you monitor your operation in the way that's best for you. From station monitoring to mobile device viewing, we make sure you're always connected and online.
Smart monitoring ensures that the right information gets to the right people at the right time. Whether it's your front-line staff, security staff, or leadership, the people who need to know will always have just what they need—and fast. Our forward-thinking technology delivers escalations automatically based on scenarios you specify and prioritize, so you've got complete control as to who gets notified and when.
We use the most advanced technologies in security intelligence. Advanced video processing and multi-camera searching allows you to filter according to several different parameters. Video synopsis technology lets you simultaneously view images taken at different times from the same camera. This drastically speeds up the process of reviewing footage and allows you to respond much more quickly.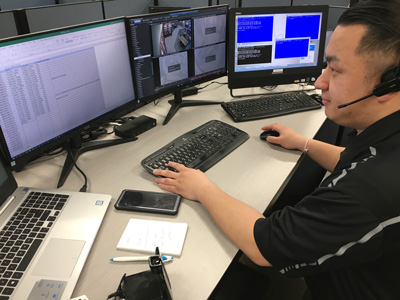 Support
While your business security system is vitally important to your success, it shouldn't distract you from what matters most—running your business. That's why you need a security solution provider who can design a system that not only meets your needs but that makes it easy to manage day-to-day. At Affinitech, we do that and more. By going beyond design and installation, we give you the ongoing personal support and maintenance you need to keep your system running smoothly all year round. From help desk and engineering support to emergency assistance, we pride ourselves on our responsiveness. Because when it comes to security, every second counts.
Affinitech Support Solutions:
To help your staff understand and operate your new security system, we provide comprehensive end-user training designed specifically for you. And for ongoing security system maintenance, we offer tiered support with predefined escalation paths to ensure quick resolution.
To better support you and your technology, our service offerings include programs designed to help you get the most from your security system—programs such as preventive maintenance, technology upgrades, advanced replacements, and more.
We Operationalize Security Systems